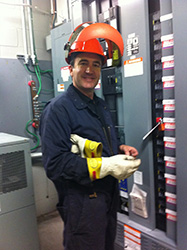 At Diotte Electric, we attach great importance to certain values that have made our reputation over the past 30 years.
Professionalism: All our electricians are experienced, conscientious and courteous professionals.
Reliability: Our team of experts is recognized for their quality work. We pride ourselves on efficient quality work.
Safety: We uphold the highest standards of safety.
Flexibility: Our team will be pleased to arrange an appointment that fits your schedule. We also offer emergency service to respond quickly and avoid costly problems.
Our History
In 1982 Richard Diotte founded the Diotte Electric. At first, he spent long hours going door to door to distribute brochures and to introduce himself to potential clients. Over time, Mr. Diotte grew the company. One of his first apprentices was his son, Charles Diotte. Once accreditation of master electrician was in hand, Charles became a main partner in the firm founded by his father. The fate of the company now rests in his hands.
In business for three decades in the greater Ottawa area, the Diotte Electric serves many customers, as many in the residential sector as in the commercial and government sectors.
The company specializes in various kinds of work. Whether it is the installation of generators, maintenance, new power supplies, service calls or permanent contracts, nothing is beyond the Diotte Electric team. The company has a fleet of fully equipped trucks crisscrossing the city to respond to calls from many customers.
The Diotte Electric team is unquestionably the greatest strength of the company. All electricians servicing the company are accredited, and the company is in good standing with the Office of the Electrical Safety Authority of Ontario (license number 7001136).
So for your small or large jobs, call Diotte Electric, one of the few companies of electrical contractors that still place great importance on personalized service.
"Every member of our team plays a vital role in the success of our company. It is thanks to our team that we can differentiate ourselves from our competitors. I am proud to say I work with the best electricians in town!"
– Charles Diotte,

master electrician
and owner